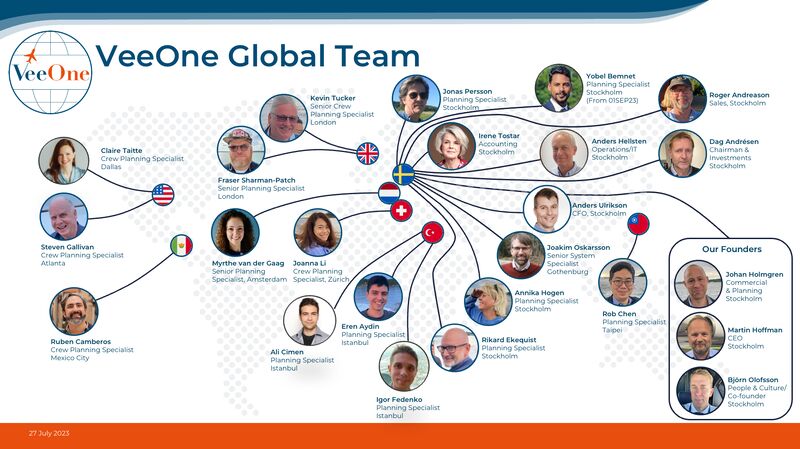 When Martin, Johan and Björn set about building VeeOne, it was important that the team would be global in nature. This was tough to begin with as you cannot assemble a team of industry experts overnight! But from the early days of just one or two planners working on freelance contracts on an ad-hoc basis, fast-forward one year and the team is operating worldwide, spanning multiple time zones. From Central Standard Time in the West to China Standard Time in the East, the team has broad coverage across all hours of the working day. There are many upsides to this approach.
🌞 The natural benefits of spanning so many time zones allow us to use a "follow-the-Sun" model. This is great for our customers: we can produce a solution for you in the morning, get feedback on quality, and then return the next version to you in time for the start of your next business day.
🛩️ Our planners have experience across the whole spectrum of airline operating models, and understand the complexity that each brings. From full-service to low-cost, ACMI to Charter, Cargo and start-up, our team have spent time in many different environments which helps us understand your business.
🏡 Our remote-first approach is great for team experience. Everyone is able to work at home, in co-working spaces, or (as is the case this week) from Bali! Of course, we meet in person when we need to collaborate, but our remote-friendly ethos allows the team to manage their lives inside and outside of VeeOne equally well.
🧠 By building a team with such diverse experiences, we know this brings fresh thinking and promotes innovative problem-solving. Each time we onboard a new customer, we are able to thoughtfully select the right specialists to work on each challenge, bringing the best out of our Global team in the process.
🔄 We know that each challenge is different and the broad experience of our team puts us in a perfect position to assist with everything across the airline planning spectrum, from Resource Planning, Budgeting, Pairing, Rostering, Day-of-Operations, Post-Op analysis and Metrics, and even Coding.
When you engage with VeeOne, you are not just benefitting from an exciting start-up, we offer in excess of 400 years (and counting!) of deep expertise in solving planning problems. Thank you for being a part of this story.